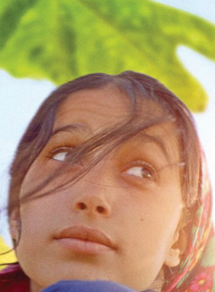 Under the Fig Trees(Sous les Figues)
GENRE: Feature
LENGTH: 92 minutes
LOCATIONS: Tunisia
DIRECTOR: Erige Sehiri
LANGUAGES: Arabic/subtitles
RATING:
Synopsis
The film won several post-production awards at the Venice IFF; selected at the Melbourne, Toronto, and Sarajevo IFF's; second prize at the Marrakesh IFF Atlas workshop; selected at Cannes Directors' Fortnight 2022, and Film Fest Munich
A beautiful and sensual film that follows a day in the life and psyches of a group of teenage Tunisian girls picking the summer fig harvest. As they work under the trees together, the men and the older women act as a foil to the girls' various feelings, as they argue about boyfriends, flirt, hide from love, run towards love, lose love……The girls are emotionally open and express themselves freely. Themes emerge of the experiences of love, the changing attitudes between generations, sexism, and poverty-inspired greed. The group is a microcosm of the larger society. At the end, though, Under the Fig Tree stands by itself as an enjoyable journey into the youth's summer world. We are immersed in the girls' lives under the fig trees.
"An engaging depiction of summer flirtations and a gentle exploration of sisterhood"- Press quote