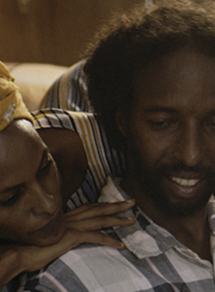 The Gravedigger's Wife
GENRE: Drama | Feature
LENGTH: 83 minutes
LOCATIONS: Somalia
DIRECTOR: Khadar Ayderus Ahmed
LANGUAGES: Somali/subtitles
RATING:
Synopsis
Golden Stallion of Yennega Award, FESPACO; Africa Movie Academy Award for best actor in a leading role; AMAA for Best Film 2021; Jussi Award for Best Music 2022; Jussi Award for best costume design, best makeup, best production design 2021; AMAA for best film in an African language.
Middle-aged Guled, working in the slums of Djibouti as a gravedigger is struggling to make ends meet. His beloved wife, Nasia, desperately needs a kidney transplant in order to survive a chronic kidney infection. Even though a donor kidney is found, Guled must collect a sum of money to buy the kidney in two weeks that he would normally take a year to earn. Guled and Nasia's love is strong, but it is interrupted by Guled and his son's desperate attempts to gather enough money together in a race against time. The tenderness and struggles of the small family are revealed amidst the poverty of the slum and in the harshness of Guled's home village. Marked by bleak humour as the situation worsens, as well as Guled's kindness to others, the film delves into what it is to love in this extreme situation.