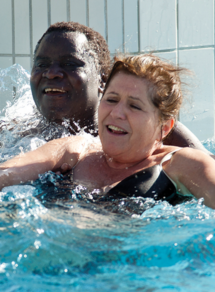 The Citizen
GENRE: Drama | Feature
LENGTH: 108 minutes
LOCATIONS: Hungary
DIRECTOR: Roland Vranik
LANGUAGES: Hungarian/subtitles
RATING:
Synopsis
Transilvania FF 2017, Zurich FF 2017, Shanghai IFF 2018, critic's pick for NY Times
Wilson is a middle-aged African refugee who has been in Hungary for years and is trying to get his citizenship papers in the hope of a new life in his adoptive country. However, he keeps failing the citizenship exams. He works as a security guard at a supermarket, whose owner finally suggests her historian sister, Mari, as a coach in language and Hungarian history. Wilson and Mari's attraction develops slowly into a romance, but the hopeful naivety of their affair is complicated by shocking racism, plus the arrival at Wilson's apartment of a young, pregnant, Iranian woman without papers. They are thrown face to face with each other's different realities and the challenge of acting compassionately. Both stark and tender moments thread throughout the film as it deals with themes of the difficulties of migration, and the commonality of love. Anyone who has been an immigrant from a developing country will relate to this film.
"…careful, compassionate, beautifully acted character drama with a social conscience" – NY Times