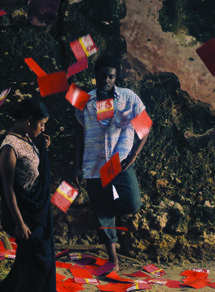 Tug of War
GENRE: Drama | Romance
LENGTH: 92 minutes
LOCATIONS: Tanzania, South Africa, Germany, Qatar
DIRECTOR: Amil Shivje
LANGUAGES: Swahili, English
RATING:
Synopsis
Tanzania's official submission to the 95th Academy Awards; Premiered at Toronto IFF;
New Directors' Competition – Special Jury Prize, Seattle IFF;
Nominee for New Voices/New Visions; Palm Springs IFF; Durban IFF
An aesthetically gorgeous film, set and shot on the island of Zanzibar off the coast of Tanzania, Tug of War is based on the award-winning Swahili novel by Shafi Adam Shafi about love across class divides, and the fight for personal and political freedom. It is the 1950's, and while the struggle rages against British colonial rule in Zanzibar, love at first sight expands into something bigger between Denge, a young Soviet-trained revolutionary fighting the British, and Yasmin, an Indian-Zanzibari woman who is fleeing an oppressive arranged marriage. Denge and his comrades work underground distributing socialist pamphlets and staging revolts at various expat meeting places, while Yasmin finds support and encouragement with the Mswahili revolutionaries whom she joins. The film follows the outcome of their love affair alongside the intensification of the freedom struggle.