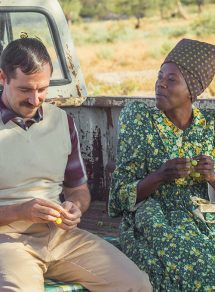 The White Line
GENRE: Drama | Romance
LENGTH: 1 hour 40 minutes
LOCATIONS: Namibia
DIRECTOR:  Desiree Kahikopo
LANGUAGES: English
RATING: NZ rating TBC
Synopsis
What's love got to do with the colour of your skin and the prevailing political situation?
This is a story of hope borne from a love which blossoms during a turbulent time in the history of Namibia, where, against all odds, a white police officer falls in love with his black maid. Their love grows over time through many obstacles, but then seems to flounder in the face of a scheming sister-in-law determined to undermine them at all costs.
"To me, 'The White Line' is about knowing that even with a history like ours, tainted with apartheid, there was love in that era between people of different races and tribes".
"The film tries to highlight how powerful love is no matter the circumstances I think this story deserves to be told because there is no better way to unite a nation than encouraging love, hope, and forgiveness." THE NAMIBIAN.