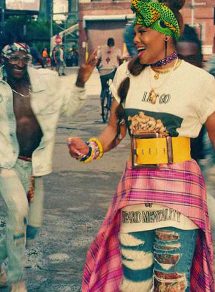 Wax Print: 1 Fabric, 4 Continents, 200 Years of History
GENRE: Documentary
LENGTH: 98 minutes
LOCATIONS: Africa, UK
DIRECTOR: Aiwan Obinyan
LANGUAGES: English
RATING:
Synopsis
From the villages of Indonesia to the cotton fields of America, from European industrial mills to the bustling markets and sewing schools of West Africa, the story of one fabric and how it came to symbolise a continent, it's people and their struggle for freedom.
In African homes across the world a benign textile lies unassuming and taken for granted. With a multitude of names from 'Dutch Wax' to 'Liputa' and 'Kitenge' to 'Ankara' this textile has become an important part of African cultures across the diaspora. A symbol of strength and identity in the face of oppression.
Surprised to learn from her Nigerian grandmother that 'traditional' African wax printed fabrics were a colonial invention made in the UK and Holland, British-born filmmaker and fashion designer, Aiwan Obinyan, sets out on a journey across four continents to trace the two-hundred year history of this iconic textile that has come to visually represent Africa and Africans.