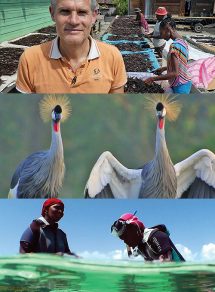 Vanilla: The Hunt for Brown Gold + Flight to Extinction + Zanzibar Saves its Sea
GENRE: Short Films
LENGTH:
LOCATIONS:
DIRECTOR:
LANGUAGES:
RATING:
Synopsis
Vanilla: The Hunt for Brown Gold
The price of vanilla has increased exponentially in recent years. The demand too. A fight for the world's most expensive spice has broken out. A film that takes you into the fascinating world of vanilla, but also shows the dark sides of this wonderful spice.
Flight to Extinction
The Grey Crowned Crane is an iconic symbol for Uganda, appearing on its flag, and coat of arms. The national football team is even called the "Uganda Cranes," in honor of the towering birds' strength and invincibility. But sadly, this spectacular bird is now on IUCN's Red Data list and if nothing is done, it's heading to extinction.
Zanzibar Saves its Sea
The ocean covers the major part of our planet, accommodating a quarter of all known species, influencing our climate and offering a coastal habitat for half of the world's population – and despite this we are destroying it. The overuse of the ocean leads to the destruction of the ecological balance. Simultaneously the coastal populations of the world lose their source of income. This has a catastrophic impact in the short and long term. But is it still possible to find an alternative to intensive exploitation of marine resources? In Zanzibar, the local fishing community of Jambiani is trying to preserve the biodiversity of the ocean's fauna.