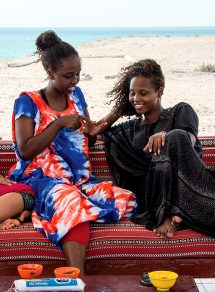 Dhalinyaro
GENRE: Comedy | Drama | Youth Feature
LENGTH: 1 hour 25 minutes
LOCATIONS: Djibouti
DIRECTOR: Lula Ali Ismail
LANGUAGES: Ibo, English
RATING: Somali, French with English subtitles.
Synopsis
Deka, Asma and Hibo are three young Djibuti women from different socio-economic backgrounds who are studying for their secondary school graduation exam together. A beautiful insight into lives and loyalties of Djibouti teenagers whose concerns, in spite of an externally repressive culture, are those of teenagers everywhere regardless of religions and traditions.