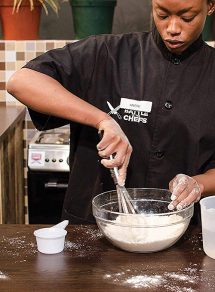 Cook Off
GENRE: Drama
LENGTH: 1 hour 56 minutes
LOCATIONS: Zimbabwe
DIRECTOR: Tomas Brickhil
LANGUAGES: English
RATING:
Synopsis
Anesu is Zimbabwean single mother whose life is turned upside down when her sonenters her into a reality TV cooking competition. But will Anesu be able to competeagainst professional chefs and qualify for the show and a chance to win $10 000?
Cook Off is a romantic comedy set in contemporary, middle-class Harare wherepeople struggle with love and ambition, women have natural hair styles and everyone watches universally recognisable cooking shows. Warm, family film that provides aquotidian impression of Zimbabwe right before President Mugabe was peacefully deposed. Featuring Zimbabwean stars including TendaiisheChitima, Michael Kudakwashe, singer
Tehn Diamond and poet ChirikureChirikure.